Oct 25, 2002
13,736
3,820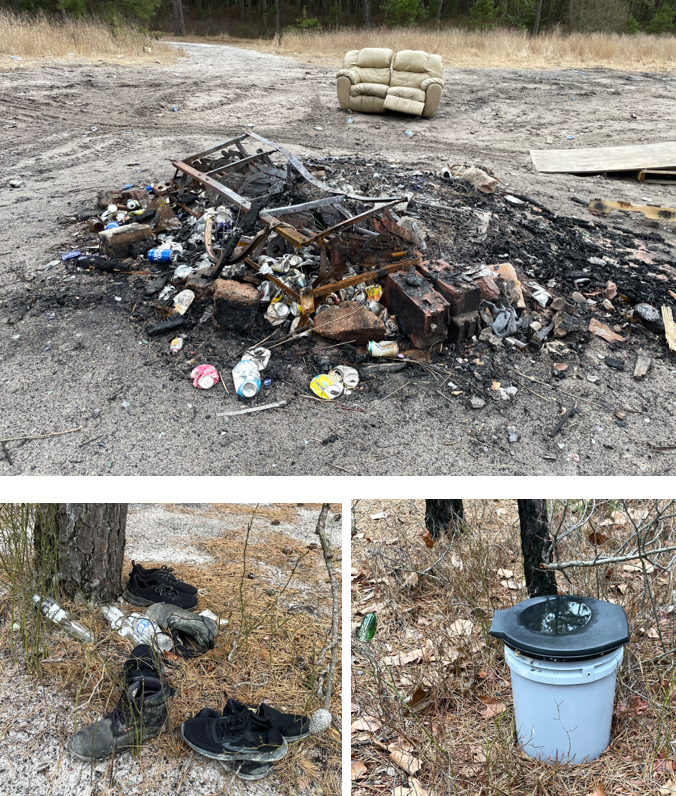 You might think that I don't care about the ATV problem as long as I have access to the forest, but that's not true. It is a huge problem that requires a new paradigm to control it. Yesterday I was scouting the woods north of Wells Mill Park on behalf of the Forked River Mountain Coalition in preparation of our annual cleanup. The first photo above was taken at the old Home Place, where 50 years ago was a wonderful place for fox hunting and music get-togethers. It has been appropriated by ATV groups, as you can plainly see. The second photo is the kind of trash commonly found at one of the open areas where they pull in and park for the day. Have to go #2 really bad? The third photo is their easy solution to that.
These woods have many owners: Ocean County, Forked River Mountain Coalition, New Jersey Conservation Foundation, Department of Environmental Protections, and private owners. The woods have effectively been taken over by trailers loaded with ATVs all weekend. They park wherever they like, and ride wherever they like. Although some of these people have a conscience and hang up a garbage bag or bring along a trash can from home, the place they hang in becomes a shit-hole. Even NJCF seems to have given up in trying to control them, and I completely understand that. It's infuriating and frustrating.
On one hand, NJCF and PPA have taken the stance that these groups have no right to access the forest. On the other hand, the ATV users want full access. Stuck in the middle are people who want freedom to leisurely roam on existing roads as they've always done. Face the facts; ATVs are not going away as long as they are being sold.
I have been a huge proponent of ATV parks. That would not only ease the pressure on the woods, but would generate income to battle the problem. But we all know that is going nowhere, mainly because it's nobody's job to find the land and implement them.
This problem is so critical that a big solution is needed. My suggestion would be to create a sub-agency under the New Jersey Motor Vehicle Commission, and staff it with qualified people who can implement the sub-agencies goals and responsibilities, which could include:
-Develop clear rules and regulations regarding ATVs and UTVs (utility terrain vehicles (side by sides)).
-Negotiate with land owners for ATV park land. Investigate State owned land that would be suitable for ATV parks. Work with contractors to run parks.
-Maintain a task force of knowledgeable Agency police officers to handle problem areas where ATVs are overrunning private and public land.
-Create agreements with landowners who own large land tracts that will allow enforcement by the sub-agency at any time.
-Determine sources of income for the sub-agency, such as fees at point of sale, fines for scofflaws, and ATV park fees.