Jul 20, 2003
7,446
1,524
1,093
55
I recently found out that the Cumberland County Clerks office has started posting their deeds online and they are back to 2002 so after figuring out how to search I found a bunch of them that the state has bought property since then and I started downloading deeds and plotting stones.Here are some I"ve found so far.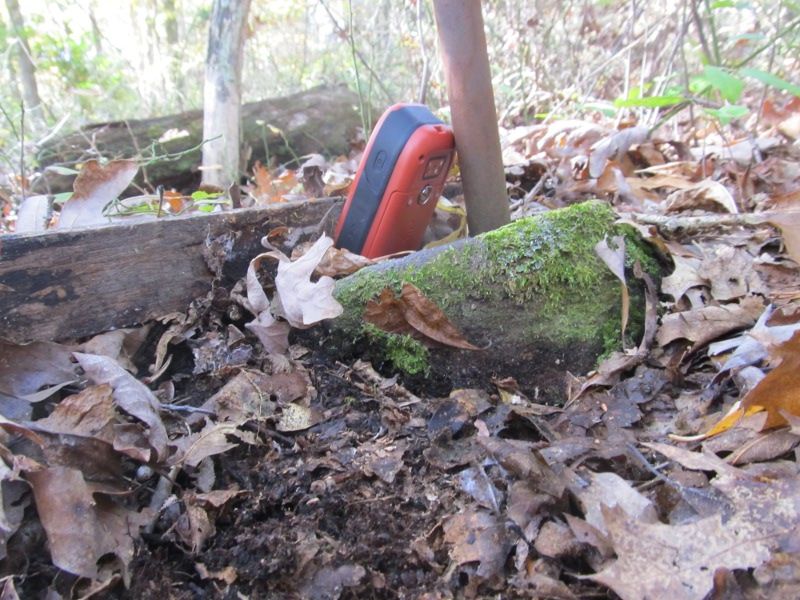 This one is right here in Laurel Lake abd I had walked within several yeards of it numerous times years ago when my Granny lived a couple hundreds yards from it and I used to be in this patch of woods all the time.
This one also in Laurel Lake was right behind someones yard and I had to zoom in on it from ten feet away because I was out in the open and they had walk in glass doors in the back of the house and if anyone had of looked out it would have looked odd me laying on the edge of their yard on my belly taking pics.I was actually on state property but it did not look good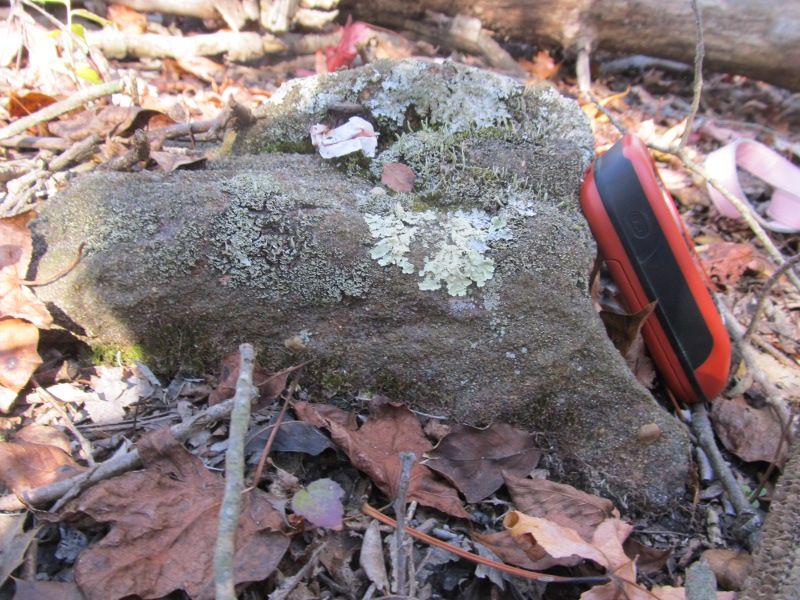 This one is just inland from Fortescue and is in some very nice open holly woods on a point extending into the salt marsh.There is a spike driven into the top,the next pic is a close up of the spike.I wonder if they drove the spike in by force which I would think would split the rock or if they drilled a hole and epoxied it in?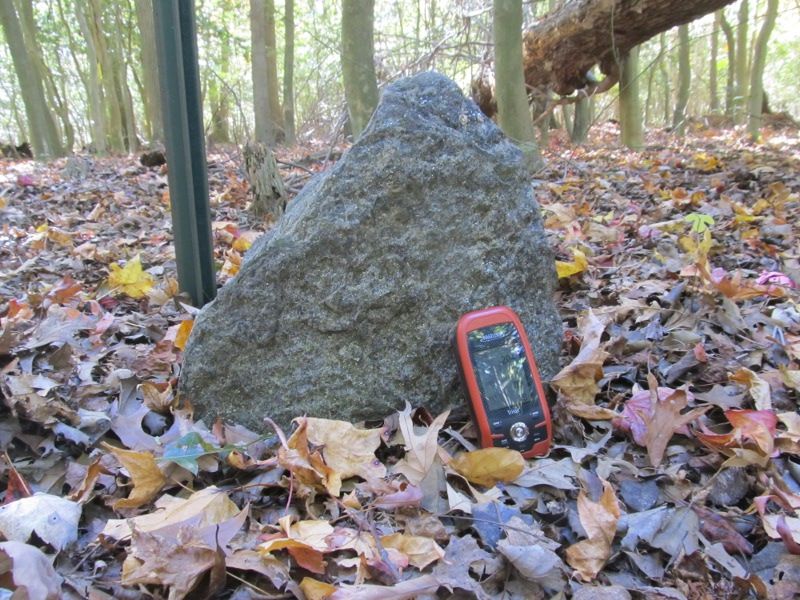 This one here also near Fortescue is in the most beautiful holly woods I have ever seen.Five lots meet at this stone like a star.The NC now owns four of them and one is private though I saw no posted signs.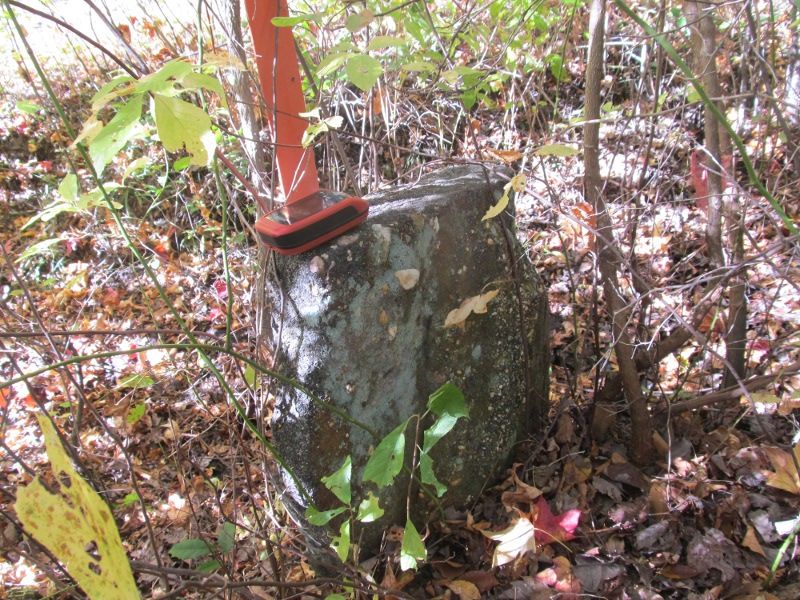 This one here I actually had some trouble finding even though it is huge.I was trying to navigate to it and did not have my reading glasses on.I thought I had picked the waypoint I had made from the plot and I actually just picked a random spot about 200 feet from the stone.I had not zoomed the map in far enough to see much of a difference in 200 feet.When I got to my destination i spent about 20 minutes looking for what I thought must be a very small stone.I could see a line of posted signs 70 feet further east and went over and walked up and down the line,still no stone.I was just about to give up and was actually setting the gps to nav back to my truck when I noticed I was not even on the waypoint.I reset it and headed 200 feet further nw.There was the stone at the edge of a ditch down in the briars and in summer would have still been hard to find.The stone is at least five feet tall but only sticks up two feet from the top of the ditch with another three feet being visible from in the ditch.The carsonite marker is what originally attracted my attention.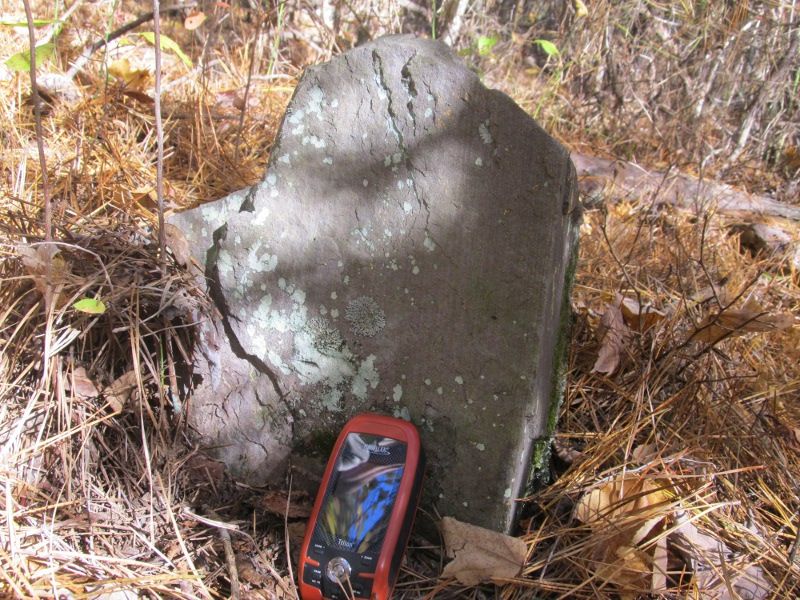 And this nice stone was about 300 feet of the south end of route 55.I passed it once,circled back around as the gps settled down and found it in an open dry vernal pondnext to a tree with an NC sign on it.In very wet springs this stone would be in the water.
I still have many more to go.So far no inscribed stones but several very nice sized ones.One listed as a large granite stone I did not find but I found a ditch that made a 90 degree bend and state signs on a tree at 90 degrees to each other so i was at the corner but no stone.Possibly buried and with no poker I will have to go back.It was in the middle of nowhere and was there ten years ago so no idea what could have happened to it unless it's underground.