After getting the hang of using NJPB maps I went hog wild and began applying them to the area where I want to take my next big trip: Stokes/High Point/Delaware Water Gap. The Gap is actually closer to me than the pines and we'll probably camp up there in November. Between the land condemned by the Tocks Island Dam project and the various farms and tracts that were bought up to form High Point State Park and Stokes State Forest, there's a lot to be seen up there once you get off of the pavement. For those who are interested in getting up that way (or who live up that way), take a look. This is all pure conjecture-I've only been to Stokes/High Point a handful of times and the Gap maybe a dozen, so please feel free to correct/add to any information I've come up with here:
I had heard that some of the unpaved roads at Stokes are only gated from first snowfall until early Spring. However, I tried to use Google streetview to check out some of the roads and found some of the roads to be gated. The images were taken in July 2011. This road is located at the intersection of Sawmill and Ridge. It's an unnamed road that branches off and travels south toward Sawmill Lake. It appears on USGS topographic maps and on Google of course, but as you can see its gated via the yellow steel swinging gates they use to close off roads for snow machines/cross country skiing:
http://goo.gl/maps/Ny6YT
At the south end where it meets up with the loop around Sawmill it's gated with this temporary barrier:
http://goo.gl/maps/hGRsE
Is that a permanent closure or did they just not get around to opening this road that particular year? It's barely a mile long but just figured it might be somewhat interesting.
Additionally, you can see where Sawmill/Ridge Roads were realigned at one point. On this topo you can see that Sawmill and Ridge were connected by a paved road (highlighted in blue) and that the current alignment of Sawmill was only a hiking trail that went south around what was then just a small valley:
Just the faintest trace of this road remains-you can see it on Bing Maps which has better aerial photography for this part of the state than Google:
http://binged.it/17ilPeP
Here's the view of where the road once intersected with Sawmill heading west toward Ridge:
http://goo.gl/maps/VAbE5
And now looking east toward Sawmill from where Ridge and Old Mashipacong intersect:
http://goo.gl/maps/URS74
Obviously not driveable, but might make for an interesting hike. According to the old topo there was at least one structure on the road about halfway between Ridge and Sawmill. Also of note-it seems that you can't drive between Old Mashipacong and Ridge? There is a gate here:
http://goo.gl/maps/8cFxt
A bit further south is what appears to be an abandoned farm situated between Ridge and Sawmill. It's labeled as "Jeep Trail" on a more recent topo:
From this end it looks as though it might now be a hiking trail given the red sign and the gate? Looking west from Sawmill:
http://goo.gl/maps/Tjri2
However, looking east from the intersection with Ridge reveals an ungated road that looks somewhat traveled:
http://goo.gl/maps/6HCTS
Worth checking out I guess but probably a good idea to "proceed with caution" given the fact that it's gated at one end. Now for another oddity-Google clearly shows that Steenykill Road and Ridge Road connect via an unnamed/unpaved connector which also shows up on the newer topo:
http://goo.gl/maps/SnqQf
Looking northwest from Ridge-no gate to be seen:
http://goo.gl/maps/vCQEo
However, once again like the "Jeep Trail" road, the other end might not be so inviting. This is the view from the end of Steenykill Road where the unnamed connector with Ridge and a road called Carp Hill all meet up:
http://goo.gl/maps/t6Zfl
On the trees you can see "POSTED" and "NO TRESSPASSING" signs (That one looks like it has some additional message on it as well) and a "NO PARKING" sign. If you pan to the left you can see a private home, but I'm doubtful that they own any property beyond the footprint of the home itself. I'm guessing the home was there and the land around it was bought up by the state years ago when High Point State Park was established. Maybe they post the signs in hopes of keeping four wheelers/hikers out even though they don't actually have the right to do so? That happens frequently with hunters who live near WMA land-they post in hopes of keeping other hunters out who don't know the property boundaries well. Another gateway to this network of roads is where Reinhardt meets Old Mashipacong, and again, there are no signs or gates:
http://goo.gl/maps/t6Zfl
It does appear that at least some of this land is held by the New Jersey Natural Lands Trust, so this may be a hiking area only:
http://nj.gov/dep/njnlt/maps/reinhardt.jpg
I can't find any information on Carp Hill Road, the road that runs between Reinhardt and the unnamed connector. Moving further south and west to the area around Deckertown Turnpike there is or was a trail of some kind that extended from Deckertown Turnpike through Mashipacong Bog/Camp property back to Deckertown Turnpike. This may have even been the original alignment of the road:
Bing Maps reveals an image of what is left of it whereas Google Maps does not:
http://binged.it/17iCJKh
A check of Google Streetview on Deckertown Turnpike does not turn up any obvious entrance from the west side, but the roadway has been built up so it would be hard to see. The other end now serves as the driveway to the Summer camp:
http://goo.gl/maps/6unOY
It might be a nice hike in from the western end of Deckertown. The historic topo indicates it may have been paved, so there would likely be something left of it in the woods. DeGroat, between Grau and Meyer looks like it even offers some hillclimbs based on the elevation changes-you climb about 400' in just over a mile before descending into a small valley and coming back up again:
Also, it doesn't look as though Degroat is equipped with a gate (at least at this end-the other end can't be viewed), so maybe it's open year round?:
http://goo.gl/maps/McBaO
Another really interesting one is an unnamed connector between Skellenger Road just south of Lake Wapalane and Sunrise Mountain. The road forks at one point and there is a structure at the end of the north tine of the fork. The part of the road that continues on is shaded purple which would indicate private property which is kind of strange. The connection to Sunrise Mountain can't be seen because of the raised roadbed, but from Skellenger looking south it looks as though the road may have been permanently turned into a hiking trail:
http://goo.gl/maps/pd7Ok
The Shotwell Camping Area has a road that seems to connect to Tuttles Corner Road:
It's gated and looks overground from the camping area:
http://goo.gl/maps/TJAUa
The Tuttles Corner end can't be viewed. Now here's a real mystery. There seems to be a road which connects Woods Road (part of Kittatinny Lake) and Coss Road, which connects Struble and Woods: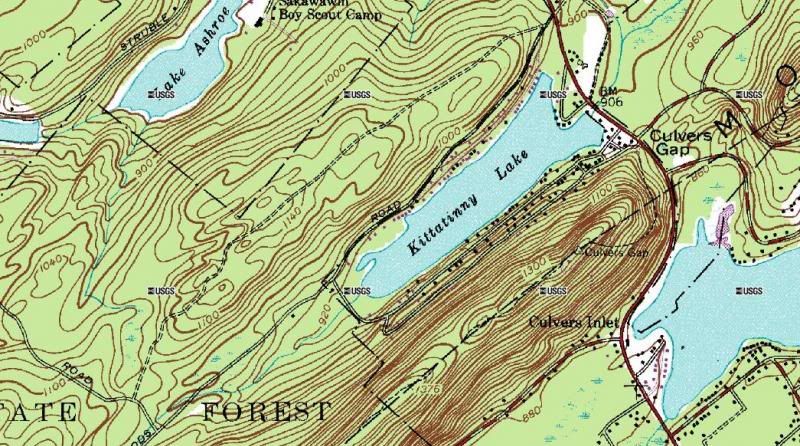 I can find no evidence of this road on Bing, which is usually pretty good at picking up old tracks in the woods:
http://binged.it/1cev0nE
Likewise, there's no image available on Google. In theory though, if its there and not gated, you should be able to travel from Woods Road (which is not private as far as I know) to Coss. From there you can either head northwest to Struble, or Southeast to the unpaved continuation of Woods Road. Woods Road (at least as far as Google Maps is concerns goes all the way to Bevans and past it, but if I remember correctly, there may be a gate there as per the NY/NJ Trail Coalition maps. It's also worth nothing that the only unpaved road (according to the topo) is the unnamed road. However, Bevans looks unpaved from this view off of Owassa Turnpike:
http://goo.gl/maps/1ppqX
A word of caution on Bevans-it crosses the Appalachian Trail, so no idea how that would affect access. All in all, this entire group of roads looks worth exploring:
http://goo.gl/maps/lKCos
Between Struble Road and Brook Road, an unpaved connector is shown that seems to follow a creek bed:
An examination of Bing Maps reveals other possible roads as well as abandoned fields, which makes sense since this area is within the Delaware Water Gap, where homes and farms were condemned in preparation for the failed Tocks Island Dam Project:
http://binged.it/17j0hP6
Happy trails!