Feb 20, 2004
4,225
1,684
1,093
On every Good Friday for the last twenty plus years me and some friends have been doing a freshwater fishing outing in the pines. The list of participants has grown and then dwindled as the years have passed and 6 years ago we lost one of our first original fisherman to cancer.
I really like outdoor traditions and will be attempting to pull this trip off as long as I am able.
Yesterday was a stellar day with crystalline blue skys and clear waters. The fish really cooperated.
We had countless pickerel throughout the day and several nice bass but our main target is yellow perch.
For those who have never eaten them, they are as good or better than sea bass as table fare.
We ended with 13 perch for the day and they fed a good group of people.
Some crackling oil in a cast iron pan, egg dip and breading and a little crab seasoning are all that you need to enjoy a healthy dinner from the waters of the pines.
All bass and pickerel were returned safely to their haunts. Only perch were harmed in the making of this thread.
We had the pleasure of watching a pair of bald eagles working in the morning and one returned in the afternoon to snatch a yellow perch from the water. He devoured it while perched on a pine branch and we were able to glass him for about ten minutes with my 10x binos. It was an amzing sight.
Me with a stringer full of dinner.
A little cleaning to do.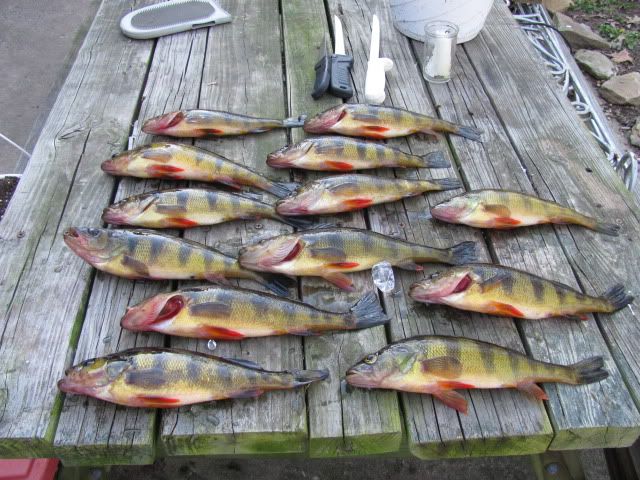 A nice bass caught by my son's buddy.
My son's boat with my good friend Chuck on the bow seat. It was a little brisk in the morning.