Administrator
Staff member
Site Administrator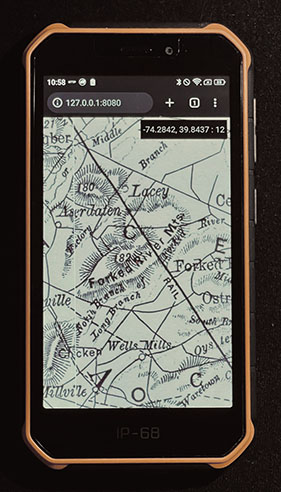 This was just a quick test, not very impressive, but I have the Kobbe map running completely offline on my Android test phone - no internet connection or cell service needed. I used the Kobbe map for this test because it's the smallest one, but it should work with any map. This is just a simple, bare-bones mapping app for a test, but I think the full boydsmaps app would also work. The concept is very simple: run a web server on the phone and upload my site with all the files. Of course, "the devil is in the details" when it comes to this kind of "simple concept" and there are some technical issues to resolve.
Not sure how far I might go down this road but am going to play around with the idea for awhile. This would only work for maps that I actually host, such as these (you couldn't use the NJGIN maps, for example, since that requires an internet connection)
There might be a few different ways to make this available...
(1) Advanced users could install the webserver app (costs $5 from Google Play), download my files and install themselves. This would only offer a limited map selection due to the size of the files. There might be a free version with a couple small maps as demo, then a version with several maps as a purchase.
(2) Advanced users could install the webserver and purchase a pre-loaded micro-SD card with all the files and maps. My full site is currently around 1.3 terabytes and will soon expand to 2tb. Doesn't look like a 2tb card is actually available but a 1tb card costs around $100, smaller cards (with fewer maps) are also a possibility. It wouldn't be free, I would have to set a price depending on the amount of maps installed plus the cost of the SD card.
(3) A "turnkey" version with an inexpensive rugged Android phone (such as the one in the photo above) that has everything pre-installed and ready to use. I think that phone cost $135, not much memory so it would need an SD card for the maps. This is a pretty cool little phone for the price, but the screen is kind of dim for use in the sun. However, it should be possible to set it up so you could connect with your regular phone. Essentially it would be a little web server you could put in your pocket and connect to it on your phone or tablet. Even better, I think anyone with you could also connect their phone and use it just like the "real" boydsmaps. Again, this would be something you'd have to purchase, so it wouldn't be cheap, but still a lot less than a $600 Garmin.

(4) An iPhone version might be possible but I haven't tried yet, there's a paid web server app that I haven't tried yet. A big problem is that iPhones don't have SD card slots so you would be limited to the phone's internal memory. Perhaps the best solution would be option (3) above and just use the Android phone as a server? I'll play around with this.
My concern with any of these is that I might be "giving away the store"... one person could buy and then give copies to all their friends. For that matter, they could upload the files to their own server and rip off my whole site.

Not really sure how to deal with all of that, and it might be a good reason for me to forget the whole thing!

Anyway, just thinking out loud here, it would be awhile before any of this happens. But curious as to whether anyone is interested?
Last edited: