Administrator
Site Administrator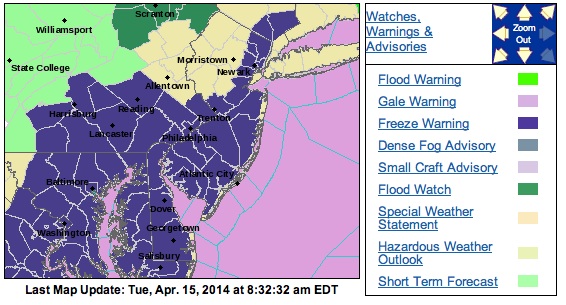 URGENT - WEATHER MESSAGE
NATIONAL WEATHER SERVICE MOUNT HOLLY NJ
340 AM EDT TUE APR 15 2014
...FREEZE WARNING IN EFFECT FROM 2 AM TO 9 AM EDT WEDNESDAY...
THE NATIONAL WEATHER SERVICE IN MOUNT HOLLY HAS ISSUED A FREEZE
WARNING, WHICH IS IN EFFECT FROM 2 AM TO 9 AM EDT WEDNESDAY. THE
FREEZE WATCH IS NO LONGER IN EFFECT.
* TEMPERATURES...IN THE MID 20S TO THE LOWER 30S.
* TIMING...FOLLOWING A STRONG COLD FRONT, TEMPERATURES ARE
EXPECTED TO DROP SHARPLY TONIGHT. THERE WILL BE A GUSTY WIND,
HOWEVER VERY COLD AIR IS EXPECTED TO SETTLE INTO THE REGION.
SOME AREAS MAY SEE FROST OR FREEZING CONDITIONS AGAIN WEDNESDAY
NIGHT AND THURSDAY NIGHT.
* IMPACTS...POTENTIAL DAMAGE TO SENSITIVE OR EARLY-BLOOMING
VEGETATION.
PRECAUTIONARY/PREPAREDNESS ACTIONS...
A FREEZE WARNING IS ISSUED WHEN SUB-FREEZING TEMPERATURES ARE
FORECAST TO THREATEN OUTDOOR PLANTS. THOSE WITH AGRICULTURAL OR
GARDENING INTERESTS IN THE WARNED AREA ARE ADVISED TO PROTECT
TENDER VEGETATION. POTTED PLANTS NORMALLY LEFT OUTDOORS SHOULD BE
COVERED OR BROUGHT INSIDE.