Administrator
Staff member
Site Administrator
The new app is now online. Kind of a difficult birth, there are many complex things happening at the same time in this app that depend on each other. While everything worked fine on my development server, everything was much slower running live on the internet. This caused lots of errors, with data not fully loading. Have tweaked everything and it seems to work reliably for me now - let me know if you have problems. It is very slow to open a map now, but that can probably be improved after I study things and learn where the bottlenecks are. Anyway, here's a very quick introduction - I have been at the computer way too long today and am going out for a break after posting this.

This quarry near Pottstown makes a good demo of what the app can do...
https://boydsmaps.com/terra/#40.362.../0/1000/577/-1000/40/3/3d/shader10/ecm/-2/z17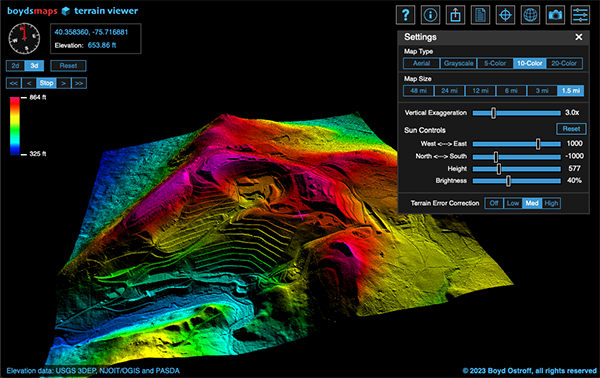 Getting closer to the Pines, this is Arney's Mount
https://boydsmaps.com/terra/#40.006...9/0/1000/592/-1014/75/3.5/3d/ortho/ech/-2/z17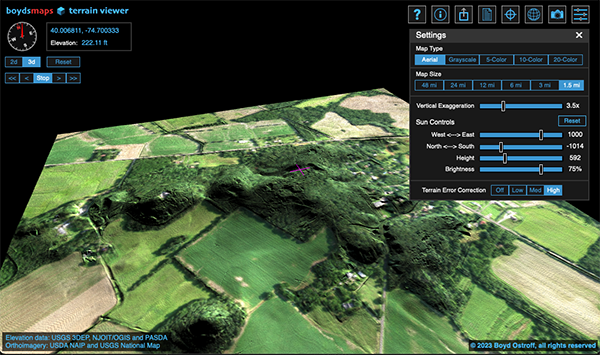 And here's
@pinelandpaddler
's "mystery canal", which is a good example of the custom shader in the flatlands

https://boydsmaps.com/terra/#39.633...0/0/1000/600/-1000/45/2/2d/shader20/ech/0/z17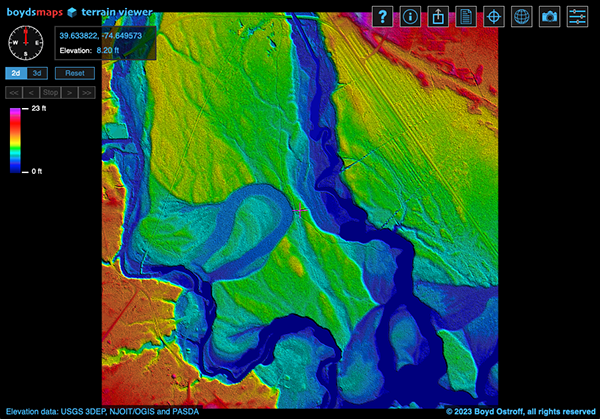 These are all direct links to the new app, I like to think of it as a "destination" instead of a "starting place". There are a couple basic tools for switching maps within the terrain viewer, but the main idea is that you will find locations in the main boydsmaps app, then go to the terrain viewer to look more closely. So, you would start by choosing any location on the map, then clicking the cube button in the toolbar.

This will bring up a settings menu that you can customize to open the terrain viewer. These will only be the initial settings, they can all be changed in the viewer. But it takes so long to open a map, it helps to have things setup the way you like at the beginning. You can just click the open button here and leave everything set to the default for now. Later, when you're more familiar with the software, you can set preferences.
Hopefully this is enough to get everyone started... really, you just need to play with all the controls and see what happens. Give it a try and let me know what you think. I'm gonna get a pizza and have a beer!

Last edited: