Jan 5, 2009
933
570
93
60
Finally, time to reach out to old friends at this site! I recently took geology club students to Jones Lake State Park (Elizabethtown, NC) on a visit to see a geological formation called the Carolina Bays. These wetlands are spung-like closed depressions that dot sandy landscapes not only in the Carolinas but around the world on sandy terrain. Such closed basins formed on land within winds' reach flowing off continental ice sheets during cold episodes of the Ice Age. In special treat park rangers Nicole Crider and Kelvin Flanery set up a working tar kiln to make naval stores on a sand-dune rim of one of the Bay features. Naval stores (turpentine, tar, rosin, resin) are the raw forest-based materials once needed to build and maintain ships and boats prior to petroleum's widespread use.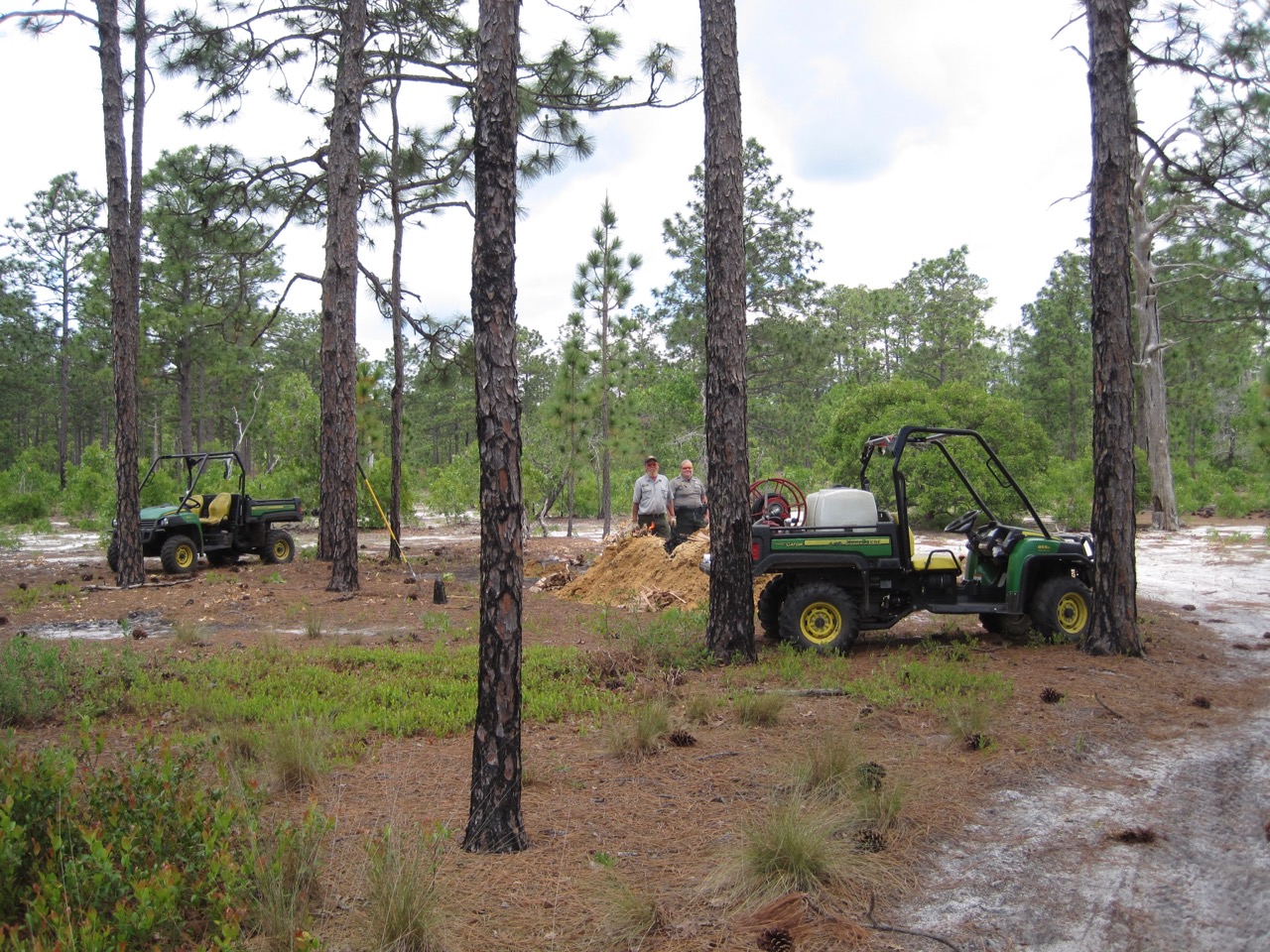 The NJ Pinelands had been a center of naval store manufacture from the 1680s to the 1790s. Scotts and Finns were particularly engaged in early naval store production across South Jersey as both emigrated from pine-forested regions. After the American Revolution ended the Carolina industry eclipsed local trade as southern pine species were more amenable to economic resin collection. NC and SC trees could be tapped in drip like in a rubber plantation trees; our trees were not so easily tapped into drip. Pineys had a more laborious route to pitch extraction. Gum had to be meticulously rendered from gathered pine knots and roots that were then put through controlled burn. Our pine tree physiology did not respond well to the slash of a pine hack (see Nicole's left hand), necessitating the extra laborious step of knot and root kilning. Note this ancient tapped specimen displays the characteristic chipping "cat face" at the topmost hack scar above the ranger's head.
In addition to hacking, Tar Heelers also produced resin through a tar-kiln method somewhat akin the the old Pine Barrens methodlogy. NC longleaf pine fat- or lightwood (rich in resin-bearing pitch), was placed in an iron vessel, which was buried into a dirt-covered mound. Ranger Kelvin Flanery lit and controlled the tar-kiln burn, producing an intense fire above the concealed iron vessel, so as to heat the contained lightwood charge without burning off the lightwood or its resin. The intense top heat liquefied the lightwood resin, which was collected by a bottom drain system, then directed the flow into a bucket via a metal tube.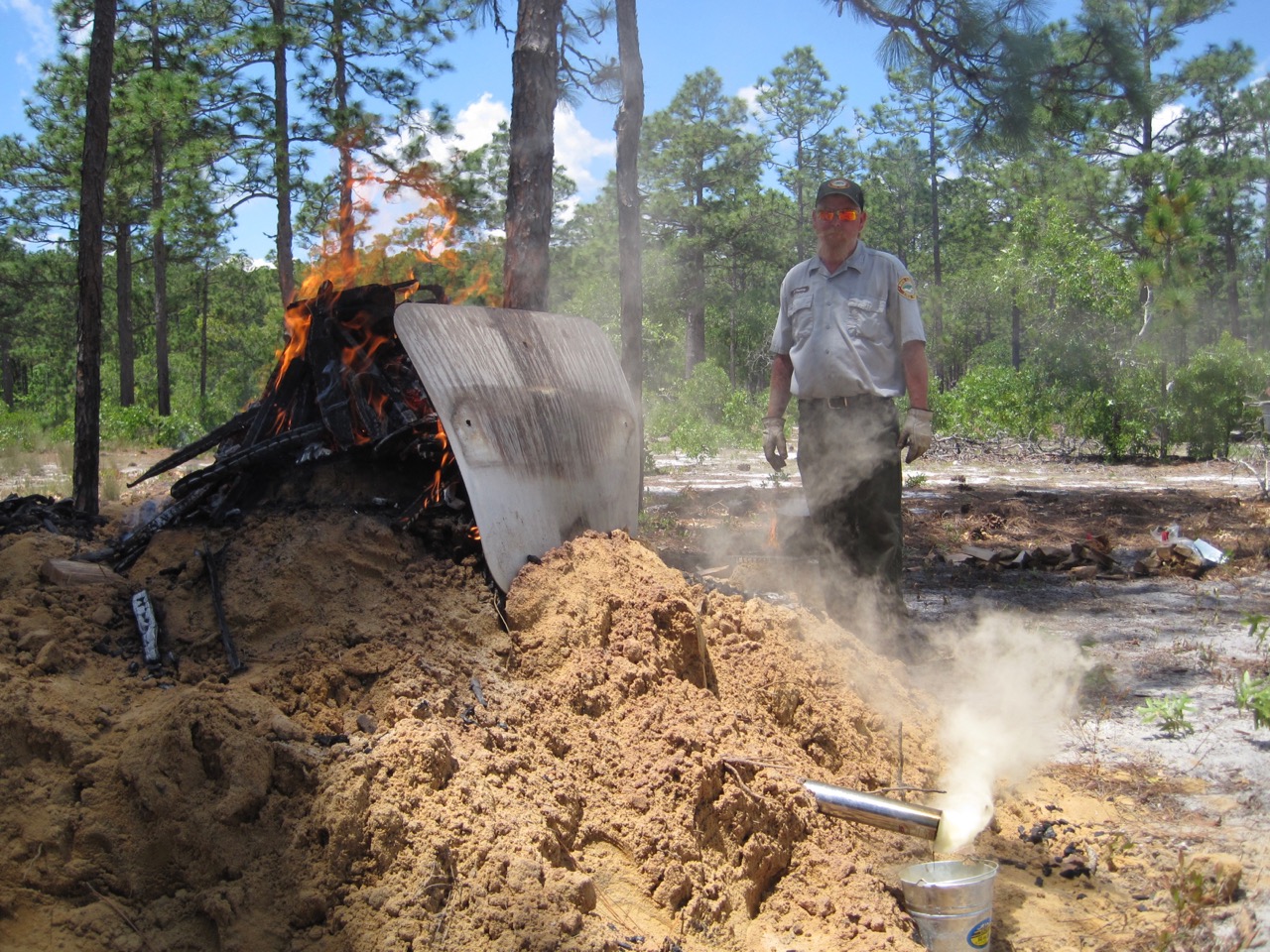 Surprisingly, the still-smoking resin is only warm to the touch as the goo exists the kiln outlet. This resin would then be put in barrels that were barged to shipyards for distillation into other products like turpentine and rosin. Resin is sticky as hell, and in my case took a couple days of diligent scrubbing to finally rid its trace from my hands. Tar heelers had it rough. Like coaling in the Pines, it was said that that you couldn't tell the race of the practitioner as their soot veneer obscured all clues as to their actual identification.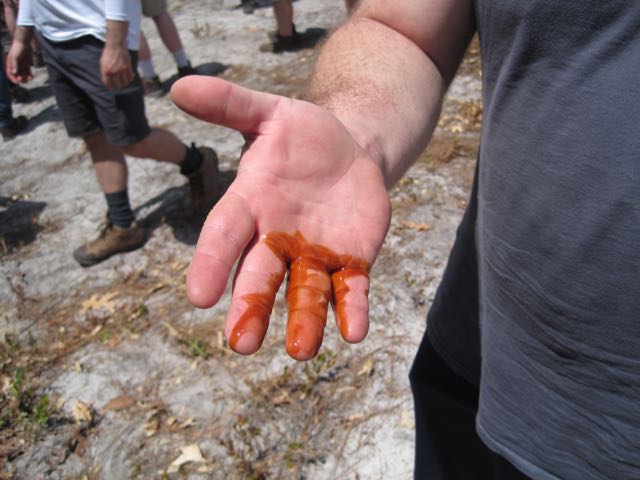 The rangers also brought along a variety of associated tools for us to examine. There is not a lot of literature about Pine Barrens naval store production, but a good start is Weiss & Weiss (1965: 35–45).
Weiss, H.B., and Weiss, G.M., 1965: Some Early Industries of New Jersey. Trenton, NJ: New Jersey Agricultural Society. 70 pp.​
The NJ tar kiln industry briefly revived during the War of 1812 and during the Civil War, but each time quickly declined with the end of hostilities. Pine tar cordial, an oily distillation tail produced ahead of turpentine in the still was an Rx panacea that cured throat and lung diseases. The drink was particularly sought out for dyspepsia (stomach ills). In the New Italy section of Vineland's Thick n' Hole Tract accounts have the cordial distilled there into the twentieth century.
I'm truly touched by the hospitality provided by Rangers Freeman, German, Crider, and Flanery who made our visit to Jones Lake State Park a most memorable venture. Crider's scholarship filled in missing pieces to the NJ Pine Barrens naval store puzzle. I had never seen this process in action before. Her colleague self published a monograph on the North Carolina aspects of this forgotten trade. I will pass along the publication's details as soon as I have procured a copy myself.
Raising a fresh pint of brew courtesy North Carolina Parks I bid everyone a dyspepsia-free Memorial Day 2019 cheers!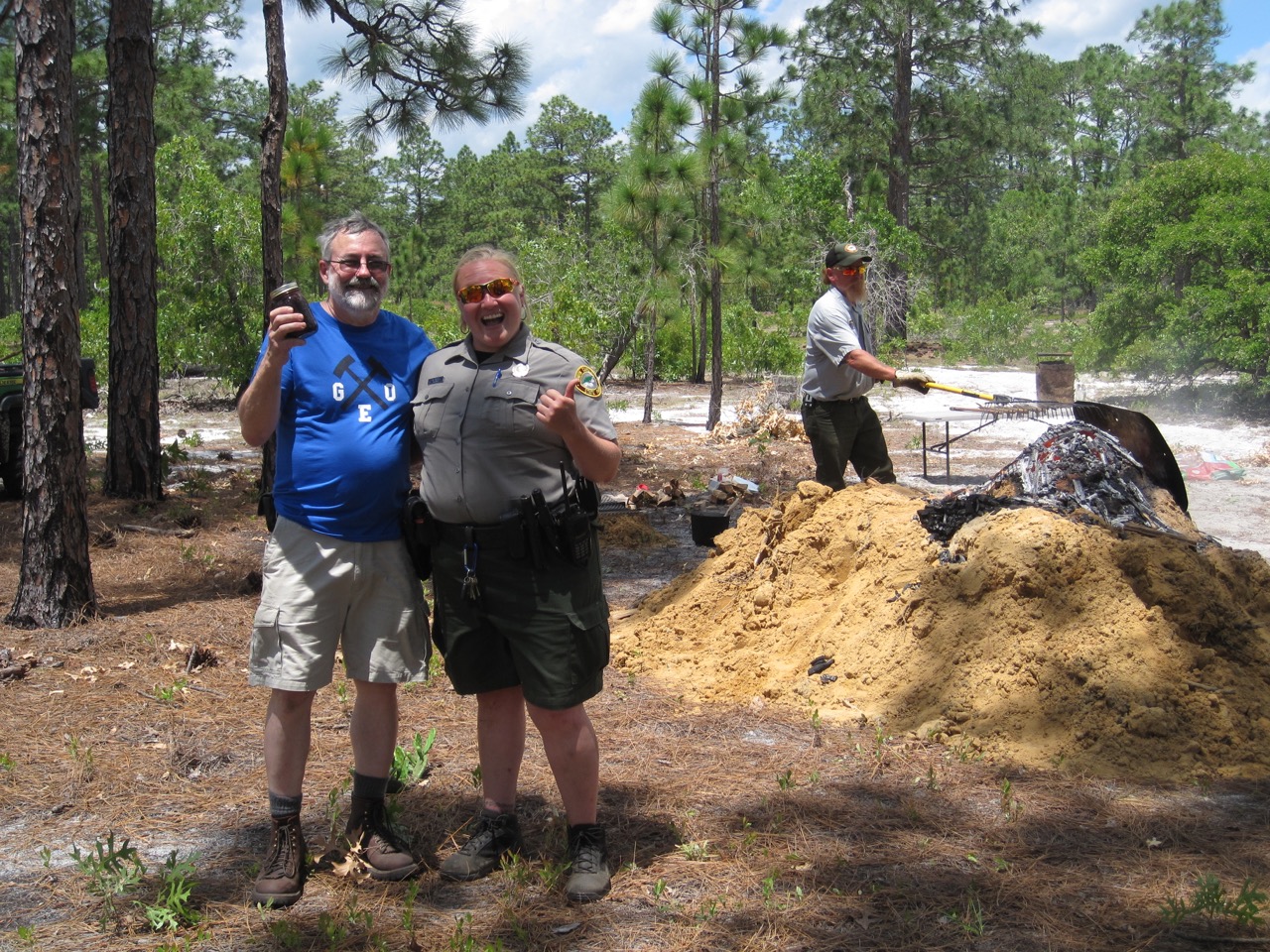 S-M