Administrator
Site Administrator
I had another
"Aha!"
moment today and realized I could bring all these maps to the boydsmaps app. Again, it turns out to be quite simple... if you know how. But I haven't found any examples of "how". These will take a little while to fully implement, but I have added the "shader" map for starters. It can be selected and used just like any other map. For example, here's Mullica Hill
https://boydsmaps.com/#17.25/39.736250/-75.224475/mbx3dshader/-58.80/71.60
You can easily switch to any other map the usual way, such as
https://boydsmaps.com/#17.25/39.736250/-75.224475/pines1999/-58.80/60.00
The map should be listed on the menu like this (depending on your mapset preference)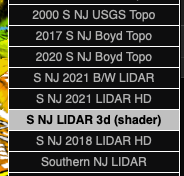 Of course, you can link to the 3d map just like any other map on the site. This should work on computers and phones, although it may stress some older/cheaper phones. It will be interesting to see how well these work in GPS tracking mode on a phone - that has not yet been tested! I will be adding a control for vertical exaggeration - finally figured that out, so I won't need multiple versions of the same map in the future. But for now, exaggeration is "hard coded" to 3x.
Usual disclaimers about clearing cache apply, as discussed earlier in this thread. Here are a few more examples, just for fun.

Pennypack Creek
https://boydsmaps.com/#15.94/40.080247/-75.055712/mbx3dshader/147.00/64.60
Colliers Mills
https://boydsmaps.com/#17.63/40.067520/-74.447988/mbx3dshader/14.40/71.20
Mount Holly
https://boydsmaps.com/#17.82/40.002094/-74.788567/mbx3dshader/3.00/75.40
The Forked River Mountains
https://boydsmaps.com/#16.57/39.846240/-74.292460/mbx3dshader/-34.20/77.60
Pecks Corner
https://boydsmaps.com/#16.23/39.506659/-75.346361/mbx3dshader/-42.60/69.20
Devious
https://boydsmaps.com/#18.03/39.744671/-74.640655/mbx3dshader/40.80/70.60
After I finish implementing the other maps in the main app, then I'll probably retire the dedicated 3d site. So it would be best not to link to any of those maps.
Last edited: