Administrator
Staff member
Site Administrator
The paint is literally still wet on the new site, but it's up, running and appears to work. My definition of "map" here includes not only the visual elements, but data on two million features that's updated in realtime - "XT" stands for "e
XT
reme". Hopefully it will be intuitive, just zoom, drag the map around and watch what happens. Here are a few links to get you started. If you just enter the basic URL, you get a topo of Bear Swamp Hill - the spot where McPhee's iconic book opens.
https://boydsmaps.com/pines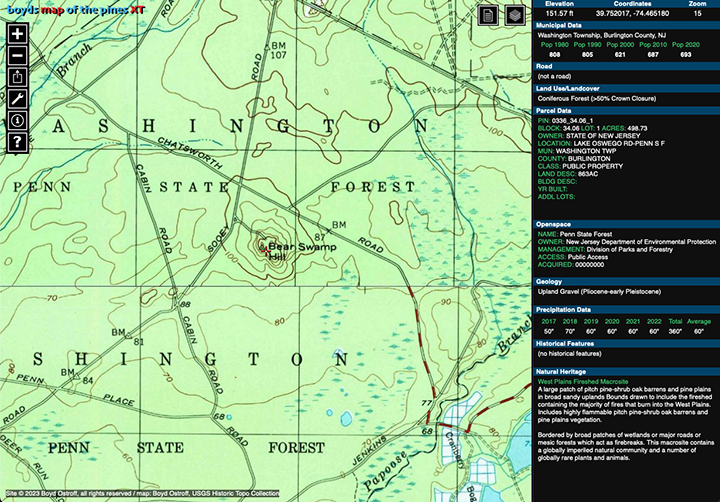 Contrary to what I said in the Rowan map thread, I made a new map that shows parcel outlines overlaid on the 2007 aerials (I used those simply because I already had them, which made the job pretty straightforward). Here's an example from
Retta Heights
. Notice that this parcel is one of a group of lots listed on an another parcel. If you look on other sites, I don't think any ownership data will be displayed. As mentioned elsewhere, I have identified 64,000 of these "orphan" parcels that are missing from other sites. I use the terms child, parent and orphan when discussing these - but I just made those terms up, so don't expect anyone else to know what they mean.

https://boydsmaps.com/pines/#17/39.432772/-74.875665/parcels07/0/0/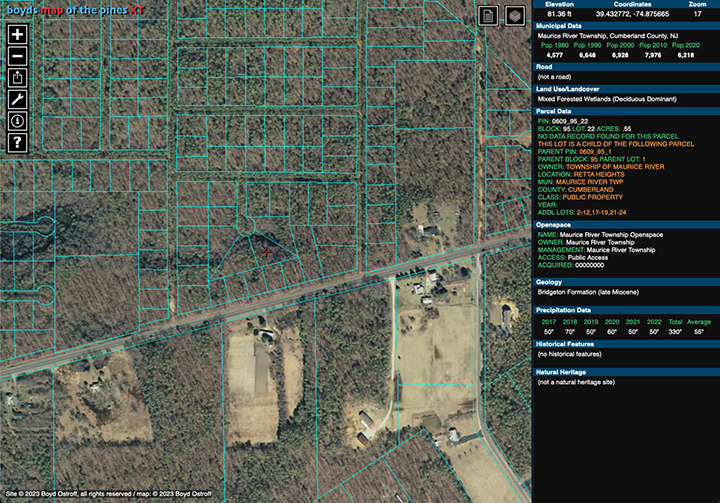 The 2021 LIDAR map also shows parcel boundaries for zoom levels 15 - 17 (and my 2020 topo shows them at level 17). Note that the historical town name is shown in this example. Historical features was the last dataset I put together (finished it this morning) and by then, I just wanted to get it out the door. I may add more features in the future.
https://boydsmaps.com/pines/#17/39.769233/-74.681049/lidar2021hd/0/0/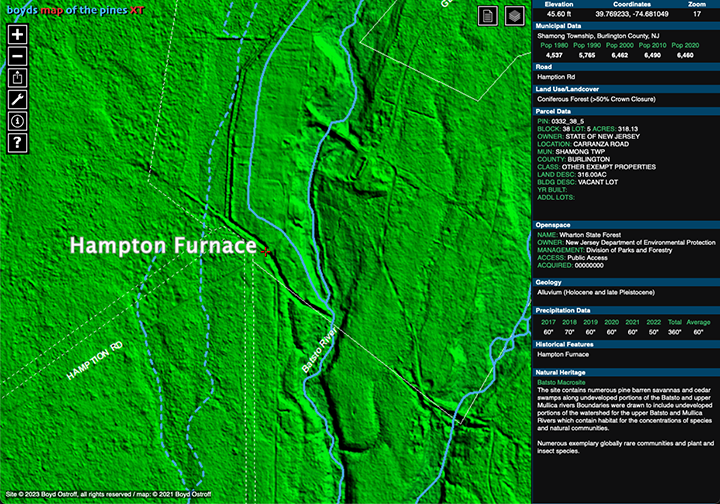 There are about 4,500 historical features, most of which are historical building locations - things that aren't there anymore. They could be ruins, cellar holes or nothing at all. Watch that data field as you explore the map and you may find a few. Again, the orange text indicates data from a "parent" parcel.
https://boydsmaps.com/pines/#17/39.682901/-74.575365/midatlidar/0/0/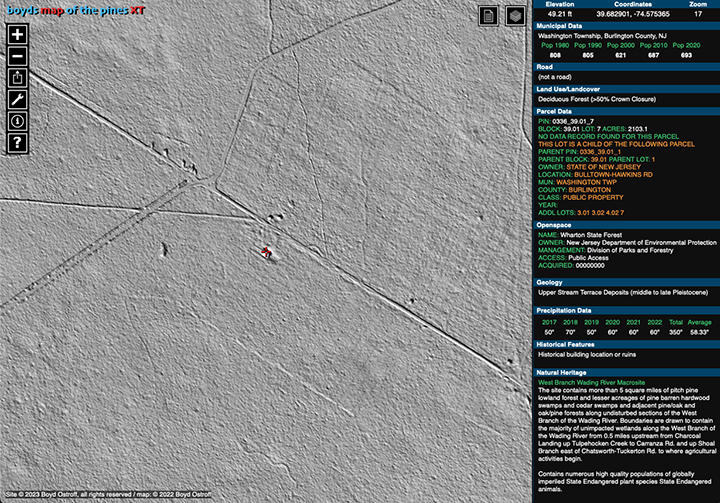 There's a sharing button that works just like the "sync" app, a button to show info about the site and a help button. The preferences (wrench) button allows you to choose which of the data fields will be displayed. Turn off the stuff that doesn't interest you, it will improve performance, use less data and help fit everything on smaller screens (if your screen isn't big enough, you can scroll the sidebar to see the rest of the data).
Speaking of small screens, I have built basic mobile features into this app but not spent a lot of time on that. There's no setting for mobile use, it automatically changes layout when detecting a small screen.The buttons are a little on the small side but still usable. The layout automatically switches between portrait and landscape mode, with the data fields on the bottom in portrait (I think it looks better in landscape on my phone). Some older/smaller phones may not be usable if the screens are too small. Use the preferences to turn off some datasets to help it fit on a phone.
The map menu is in the usual place, there are about 50 maps covering the Pines. 3d view and 3d maps aren't supported, but the regular 2d Mapbox maps are there. There's a map info button next to the map menu and you can click on the blue bar above each dataset to see info and metadata for it. You boundaries are constrained (more or less) to the pine barrens, if you try to drag the map beyond the invisible bounds, it will snap back.
Have only played long enough to confirm that it works - now it's your turn to put it through its paces. This is still a big experiment for me, it uses my own proprietary API for fast streaming of map data without the overhead of searching a database or performing calculations on polygons. It works fine on my home server and network but it remains to be seen how it performs "in the wild" on the internet with a bunch of other users. It is a bit slower to respond than my home server, but I expected that.
Let's see how well this works for everyone. If it appears stable, in a few days I'll add a button to the main boydsmaps app that will take you to the same spot on the new site.
Now it's your turn... check it out. What do you think?
Oh - by the way - the first time you visit you'll need to agree to the terms of use. With all the data that's being presented, and all the opportunities for errors, I felt I needed a little "CYA".

Last edited: