Administrator
Site Administrator
Sep 17, 2002
25,300
7,764
I decided to start this so I don't have to create new threads each week.
Today, we went looking to see if there is a property stone at the corner of a parcel of land in the Oswego Tract that Joseph Wharton purchased from Charles B. Ballinger on December 3, 1906. The property is in Lot 6 of the Oswego Tract survey just above the Cutts Bog above Martha. The Calico fire earlier this year opened up that area and I have just got around to going there to look. The corner is 3537.60 feet from the Oswego Pond on the southern Lot 6 line. I know the exact starting point and the ending point of that line and so all I had to do is measure off the distance in Google Earth and we were there. Unfortunately, even though it is easy to see the ground, we found nothing.
We looked where the blue arrow is pointing. Ignore the fact it shows the corner in the road because the map is wrong.

Jessica searching.
We did however find one of the Wharton survey monuments on that survey line. It has a lead metal top which tells me that monument has been replaced sometime after the original was put in. The lead deteriorates over time and that is why some of the stamping is missing.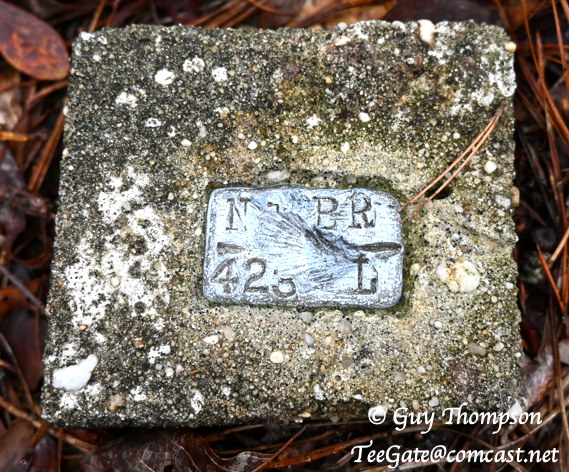 Earlier we went to the Martha Bridge and I added to my Then And Now photos. I did not have the 1975 photo with me, I went from memory, so it is not exactly accurate.
The late KC Mahon and myself developed 8/1975 and today.