Administrator
Site Administrator
Update 5/3/2023: The code for this old site is being updated to use the new boydsmaps elevation format and will re-launch soon, with full coverage of New Jersey, Pennsylvania, Maryland, Delaware, Connecticut and Rhode Island and partial coverage of Virginia, West Virginia, New York and Massachussets. See this post on page 8 for more information.
_________________________________________________________________________________________________________________
Sorry, but lidar.boydsmaps.com shut down permanently on December 2, 2021 and no longer exists, so links to this old site will no longer work but I have arranged for them to open a comparable new map centered on Apple Pie Hill.

However, as of 1/15/2022 full 3d LIDAR coverage of Southern New Jersey is now available via the boydsmaps web app, here are views of Apple Pie Hill on each map

Monochrome shaded terrain
https://boydsmaps.com/#16.99/39.807046/-74.589179/mbx3dsolid/-62.40/83.80
Color shaded terrain
https://boydsmaps.com/#16.99/39.807046/-74.589179/mbx3dshader/-57.00/84.20
NJ 2007 Aerial Imagery
https://boydsmaps.com/#17.83/39.807681/-74.589168/mbx3dortho/-128.40/84.20
______________________________________________________________________________________________________________
(Original post from January 31, 2020 follows)
After four months and thousands of lines of code... the all-new LIDAR site is finally online!
(old link removed)
Coverage is pretty limited at this point (I've been concentrating on the code) but I'll be adding more maps every few days. Keep in mind however, that each little grid square in this image represents four separate maps and takes 30 to 60 minutes to create. So this will be an ongoing project.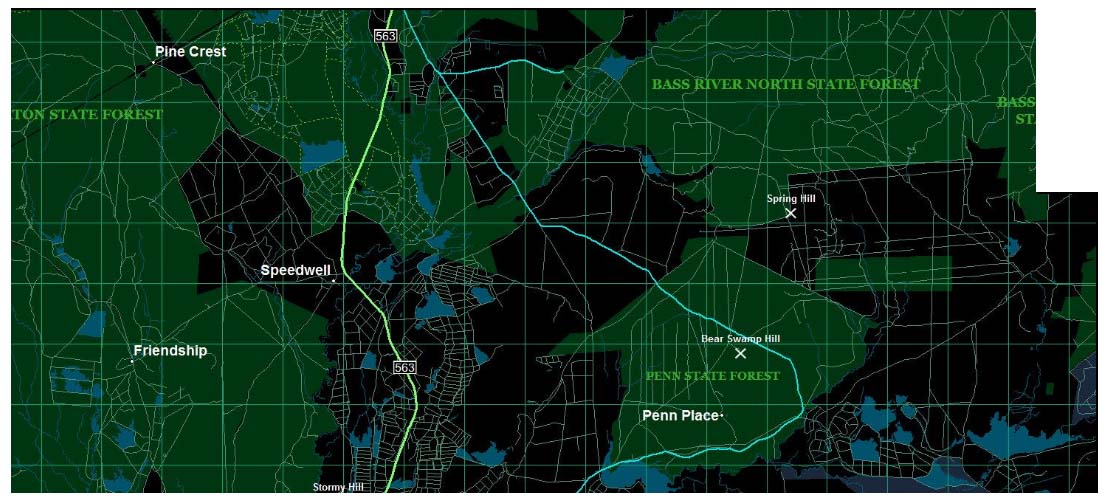 It features a new "dark topo" which is based on my HD Map of the Pines but with a simpler style designed for clarity. For example, the contour lines have been simplified since the LIDAR imagery tells you everything about elevation. I have also removed landcover to make openspace boundaries more clear. Here's a comparison.
When it comes to LIDAR terrain detail, you can easily see the advantages. Here's a comparison with NJPB maps (click these images to see them full-size)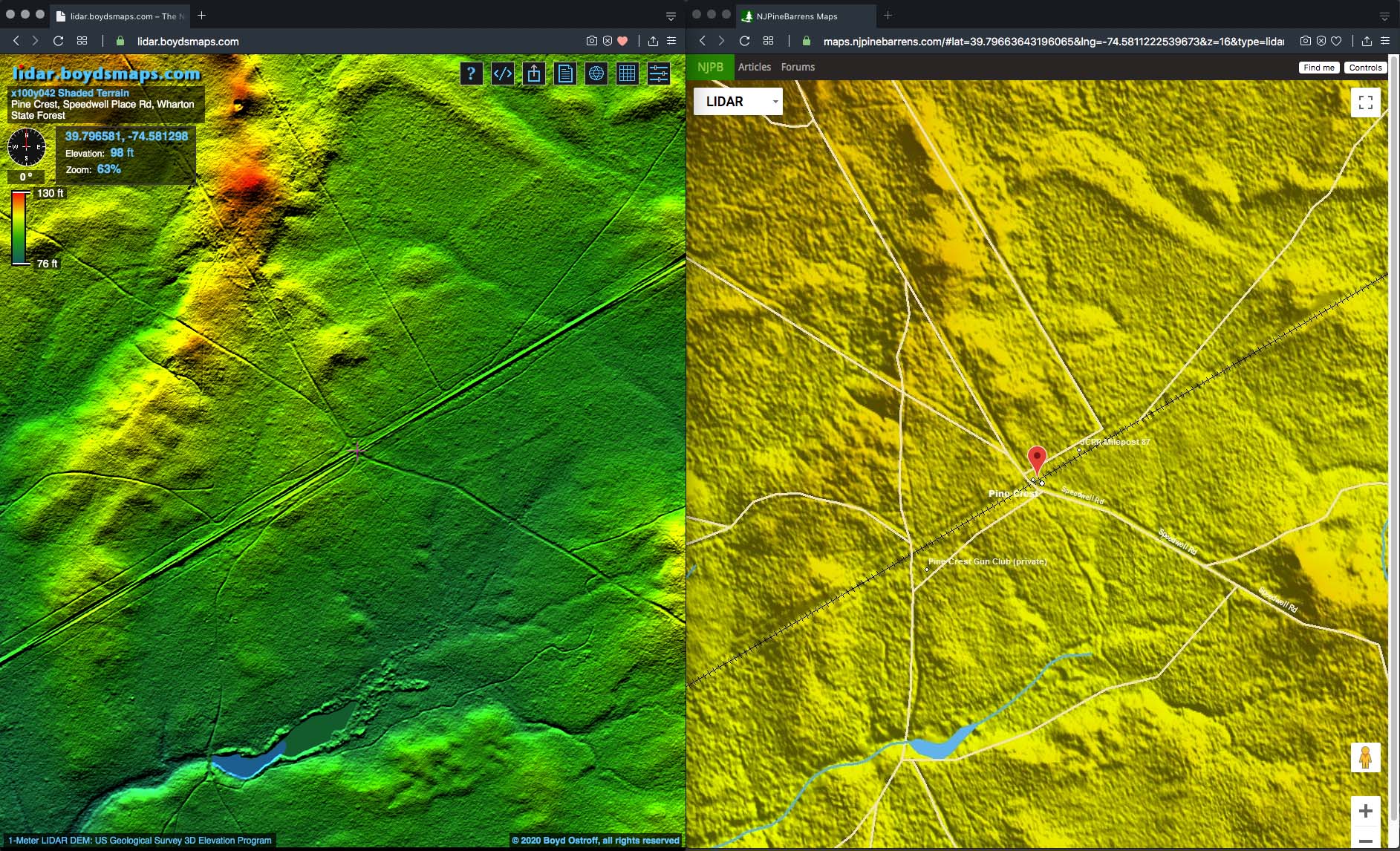 Also a huge upgrade from my LIDAR HD map. But this is only part of the story, because the map controls let you bring out the details that interest
you
.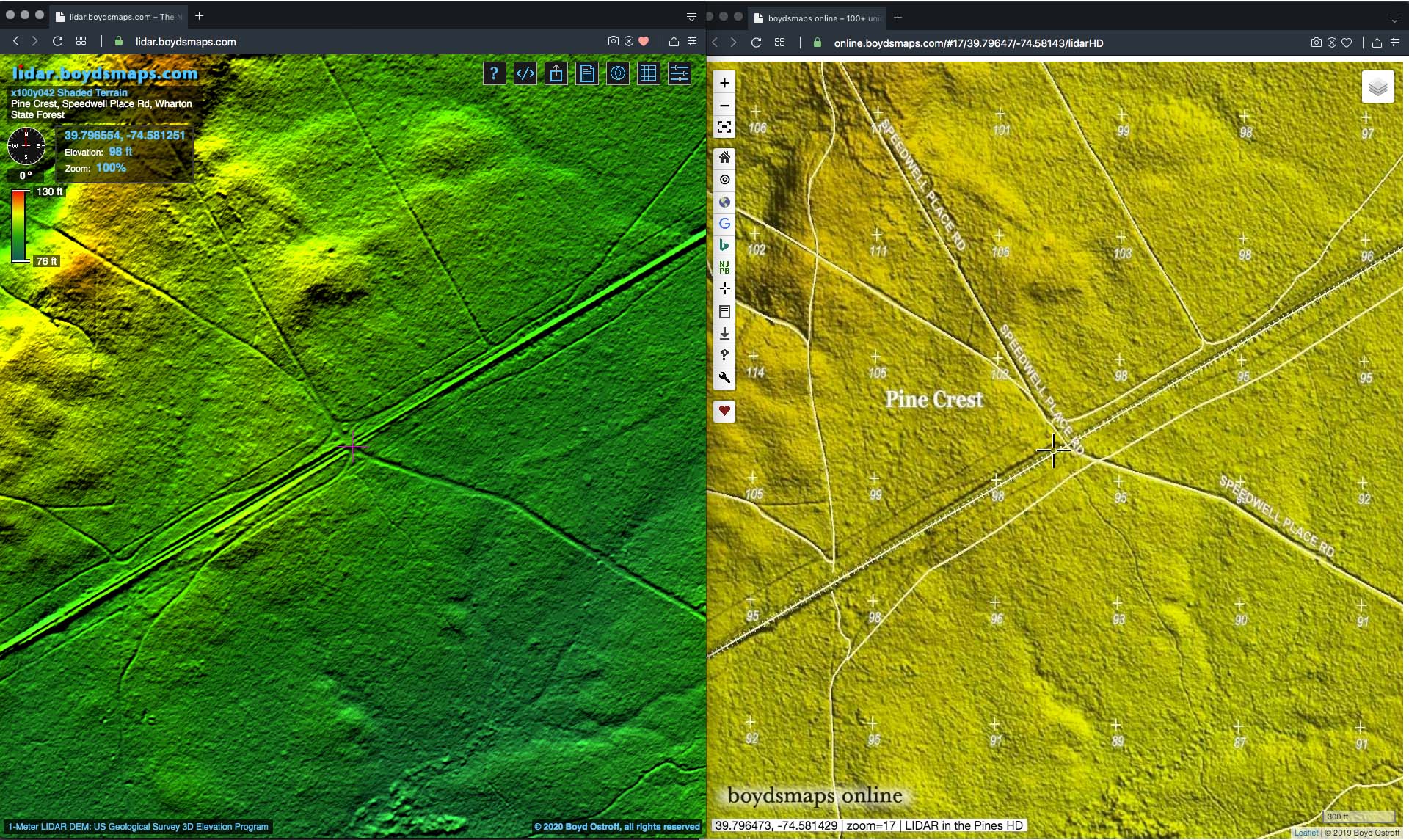 But the real fun comes when you switch to 3d view (these links may take awhile to open...)
(old link removed)
(old link removed)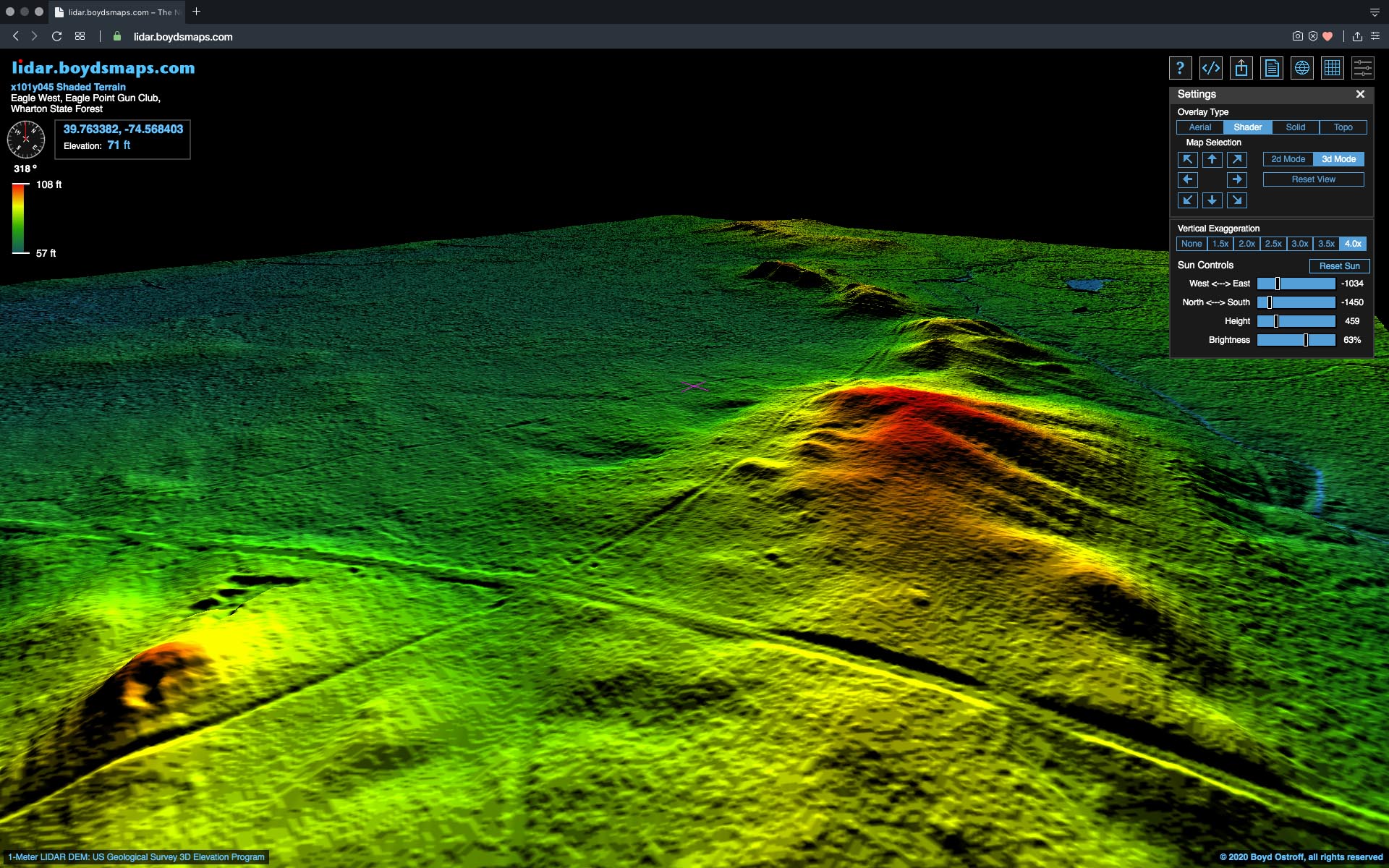 (old link removed)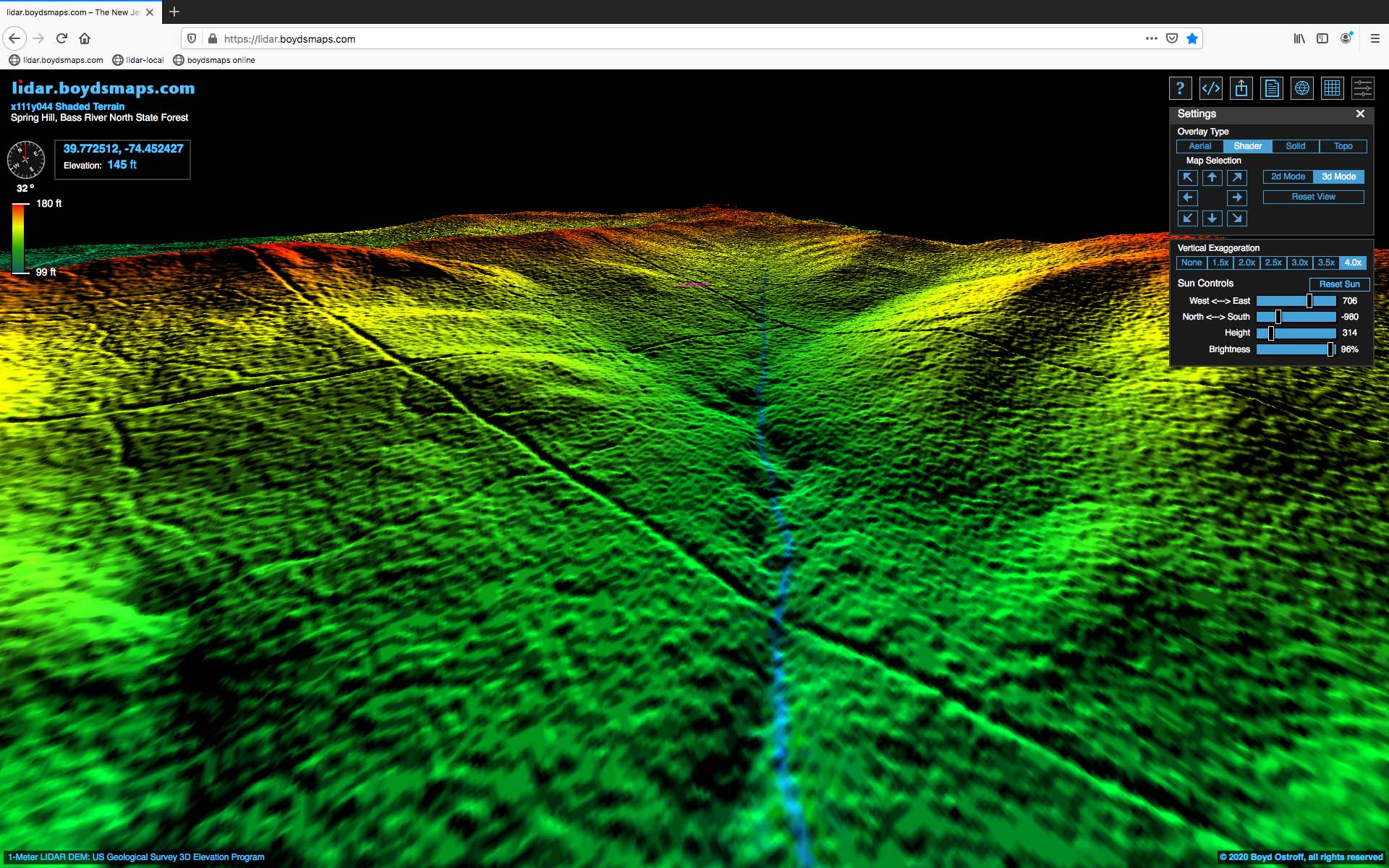 Use the question-mark button to access the helpfile on the site. A fair amount of work has gone into the documentation, but there's still room for improvement. You can also use this link to directly access the helpfile
(old link removed)
Each map also includes a page of detailed information/metadata that can be accessed by clicking the button that looks like a document.
(old link removed)
When you share links to the site (like the ones above) they include all your custom settings. Use the sharing button for this - you can't just copy the web browser address like other sites. You'll also see a number of other options in the sharing menu, like opening the same map on other sites or getting the coordinates of your position. And a new feature lets you download a Garmin-compatible waypoint that can be used on your GPS, in Basecamp or any program that opens .gpx files.
Here's a quick tutorial to help you understand the basic concepts:
(old link removed)
So, enjoy, and play with the controls to discover the endless possibilities!
Last edited: