My son and I spent the better part of yesterday exploring the new Tuckahoe WMA Lenape Farms Unit in Estell Manor. This is the monstrous acquisition that was executed by the State this year on both sides of Route 50.
We went into the east side off of Steelmantown Road first and we were surprised to find that access into the former clubhouse area has already been terminated by F&W. We parked at a gate and walked about a half mile to the heart of the former clubhouse, trap and skeet fields.
We encountered a F&W worker who told us that access throughout much of the acquistion is going to be restricted to foot access only. The clubhouse, which is today hosting a two day trapper education class, will only be accessible for special events such as that. The road into the clubhouse is a large gravel surfaced road but secondary roads within the acquistion are smalle and wetter and it wouldn't take long to turn them into muddy mini-disaster areas. The apparent light, seasonal use of the more remote sections of the tract by the former owners is about all the roads would adequately handle.
We left the main entrance and went south on 50 to the southern border off of Gibson's Creek Road. We entered a small path that is shown as a road on the USGS maps and it traverses some beautiful woods and wetlands. Honestly though, the woods I experienced in the Manahawkin Swamp a few weeks ago were far more impressive and awe inspiring.
A remote impoundment off of Jackson Creek had our interest as a potential waterfowling spot and we hiked in about a mile to get to it. It certainly looked good when we got there but the walk-in options would be imposing if we were carrying decoys and guns.
The last area we checked was the west side of 50 and Walker's Forge Road. There is very limited access at this point with most gates still locked. Posted signs have been removed and WMA signs are popping up in more locations. According to the guy we talked to, vehicular access to this area will likely be tightly restricted as well.
This an impressive piece of land and it is hard to fathom that it was all privately owned at one time and almost entirely fenced. I expected to see deer sign everywhere within these fenced limits but such was not the case. I did see a lot of evidence of beaver, otter and coyote.
I was just a little disappointed with the limited access but after seeing the environmental sensitivity of the areas and the light duty conditions of the internal roads, the State is most certainly doing the right thing. My son and I agreed that much of the area will be prime hunting area for those willing to make the effort.
Explore it now in its pristine condition.
Scott
Some photos.
The clubhouse. These men were living large and in charge.
The pond next to the clubhouse. This had a park bench and manicured lawn next to it. I chose the wild view.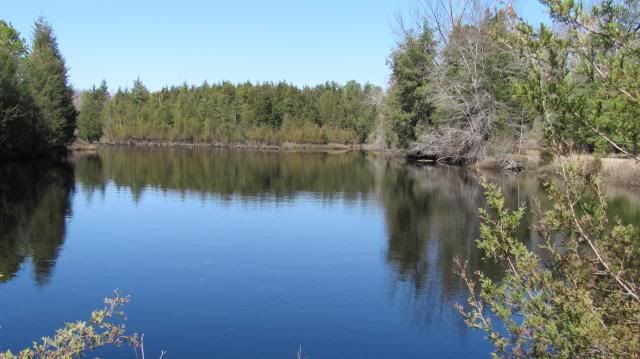 A 350 yard rifle range with machined aluminum bench rest rifle tables. This will likely be abandoned.
A lightly used and grass covered wetland road leading to the club's private boat ramp on Stephen's Creek. Two passes by an A-hole in a blown Chevy with 44's and this road would be closed forever.